Spread the Warmth campaign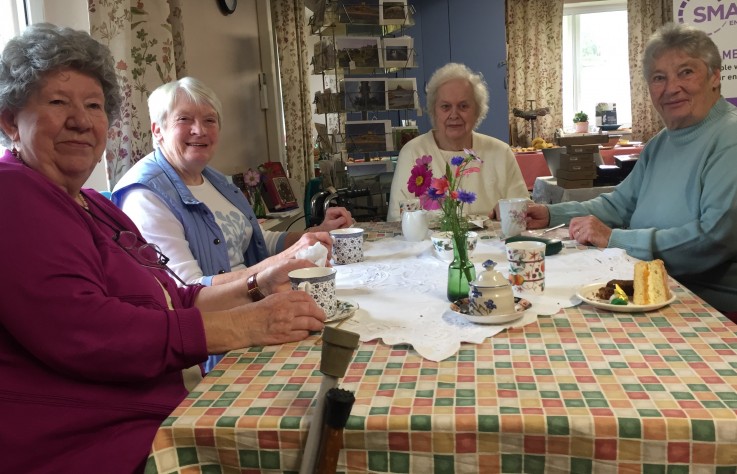 CAN Community Appeal – 'Spread the Warmth' and donate your Winter Fuel Payment
CAN is launching a new appeal asking people to 'Spread the Warmth' and donate their Winter Fuel Payment to us to help others in fuel poverty. You'll be joining a growing number of contributors who already donate some or all of their Winter Fuel Payment to CAN each year to support our fuel poverty and energy efficiency work targeted at helping local people struggling to heat their homes through Winter.
There were 707 'excess winter deaths' recorded in Northumberland over the last measured 3 year period.* The principle cause in England of these deaths is too many people living in cold, damp homes they cannot afford to heat. CAN's work seeks to directly tackle these two issues of energy-inefficient buildings and fuel poverty, and the money you donate will go directly to fund this work.
Our highly successful 'Warm Hubs' scheme is one such project which will benefit. Warm Hubs are places within the local community where people can be assured of finding a safe, warm and friendly environment in which to enjoy refreshments, social activity, information and advice about energy-saving measures and the company of other people. Our staff member Christine Nicholls works with volunteers from village halls and community buildings to set up and run Warm Hubs, keeping them up to date with training, policies and funding advice. The Hubs, in turn, help to keep people warm and better connected, not just through the winter months but all year round.
In our outreach work through our series of employment hubs across the county we regularly support and signpost individuals who struggle to heat their homes, living in sometimes isolated rural communities. As funding permits, we also run targeted advice sessions on energy efficiency, renewable options, low energy use healthy eating and many related issues.
The tough choice: Heat or Eat
Andy Dean, CEO of CAN highlighted the importance of the campaign:
"Donating all or part of your Winter Fuel Payment to our 'Spread the Warmth' campaign can help so much. This will support our existing work and enable us to do more. During the cold winter months many local people in Northumberland are faced with a tough choice: heat or eat. If you can help, please consider donating your payment so that we can make sure more people stay warm this winter."

Case study: CAN steps in to support 98-year-old with no heating
The following experience is just one example of how CAN is uniquely positioned to help people due to our partnerships and networks.
Mr. T had found his elderly relative unconscious in her home, he immediately rang for an ambulance and the fire service. His relative Ms S had collapsed due to carbon monoxide poisoning which was linked to her back-boiler heating system. As a result, a carbon monoxide monitor was fitted but the faulty heating system and fire were condemned which meant that she had no heating at all. Mr T said:
"After the incident I contacted a number of national and local organisations, but they were unable to help or suggest anyone else to contact. Finally a local friend suggested I ring Christine Nicholls from Community Action Northumberland, I rang the CAN head office and spoke to Julia. The next morning I was contacted by Christine who had three new emergency oil filled radiators for my Aunt, which she arranged to drop off at the property. Christine then contacted an installer and Northumberland County Council. A survey was carried out on the property within a week, a grant was secured through the ECO scheme and topped up from the Warm Homes Fund. The installation will be completed before the bad weather with a free eco friendly heating system, the installers are doubling up on their work force to ensure the installation is completed in one day with the least amount of disruption.

"My Aunt celebrated her 98th birthday last week and is looking forward to a warm and safe Christmas.

"I am not sure what would have happened if we hadn't received the support from Community Action Northumberland, they have monitored and guided us through the whole process".
Christine Nicholls said:
"This was an example of the effectiveness of partnership working, we have a great network of support which we can call upon in situations like this one, a big thank you to Northern Gas Networks, 0800 Repair and Northumberland County Council, I am so pleased we were able to help Ms S".
What is the Winter Fuel Payment?
A national winter fuel payment is an annual tax-free payment to alleviate the additional costs of heating in winter. An additional cold weather payment is paid when there is a seven-day period of very cold weather between 1 November and 31 March for those on benefits. Find out if you are eligible and how to claim it.
How to donate
To donate to Spread the Warmth email info@ca-north.org.uk or call 01670 517 178. We'll offer to claim Gift Aid on your donation where eligible to maximise the impact of your donation.
*Source: Public Health England Profiles, from Northumberland County Council's Facts and Figures briefing March 2018 at www.northumberland.gov.uk/campaigns/knowledge.aspx