New employment hub to support jobseekers in Seahouses
29th Nov 2018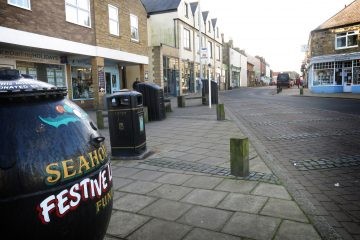 CAN is opening a fifth Employment Hub to support jobseekers in Seahouses.
We are running the Northumberland Rural Employment Hub delivering the Bridge Project, which helps some of the county's hardest to reach unemployed people to develop the skills they need to find work.
The scheme is part of The Bridge Project, which is funded by the European Social Fund (ESF) and the National Lottery, through the Big Lottery Fund, as part of their joint Building Better Opportunities Programme.The Employment Hub aims to support unemployed residents in rural areas of Northumberland to overcome the multiple barriers they face when looking to move into employment. The project recognises people in rural areas face additional difficulties when searching for work, over and above those faced by people in urban areas, including fewer local employment, volunteering and training opportunities, higher travel costs both to sign on and to attend interviews and poor internet connections making online job searches more difficult.
The Employment Hubs operate on a drop-in basis and provide support tailored to the individual's needs, whether they are young or old, have physical disabilities, mental health problems or learning disabilities, parental or caring responsibilities or face any other issues that might affect their ability to work.
Through the Bridge Project, CAN is now providing support to the community of Seahouses and surrounding area, open for anyone looking for employment. The drop-in support group is open every Thursday from 10am – 3pm at Seahouses Hub.
People will be able to access the internet to carry out job searches, benefit from one to one careers guidance, get help with completing CVs and job applications, and support with improving IT skills. A free lunch and refreshments will be available and the potential to offer travel expenses for those coming from outlying areas.
This latest hub from CAN joins four other successful hubs in Amble, Haltwhistle, Hexham and Prudhoe run as part of the Northumberland Rural Employment Hubs delivering the Bridge Project.
Julia Plinston, Community Development Officer at CAN said: "We are delighted to be able to offer this exciting new service in Seahouses. Users of our existing Employment Hubs have told us how valuable our help is to them, and we look forward to offering the same level of support to residents in Seahouses."
If you would like to find out more about the project or are interested in booking an appointment, contact Julia at juliaplinston@ca-north.org.uk or phone 01670 517178.