Celebrating 100 years of village halls
12th Jan 2021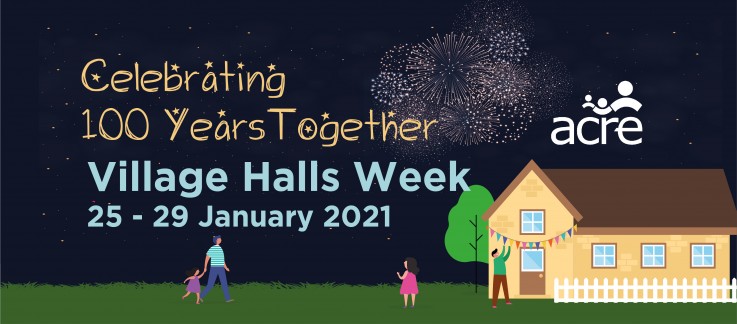 Village Halls Week 2021 will recognise the contribution England's 10,000+ halls have made to rural communities since the 1920s.
The national campaign week - now in its 4th year – is set to take place 25 to 29 January and will feature online events, videos, podcasts, and blogs showcasing the history of village halls and the benefits they have derived for rural communities over the years.
In Northumberland, there will be a special online event for village hall reps to attend to find out more about the new Northumberland Village Halls Portal which is currently in the final stages of development. This aims to help promote all Northumberland's halls and to enhance access to halls for organisations delivering services across Northumberland.
The initiative is being championed locally by CAN as we provide support and advice to over 150 village halls found across the county.
Louise Currie, Village Halls Advisor at CAN said
''Though this year we are unable to host a celebration event, we still need to acknowledge the wonderful work that trustees undertake to keep these vital resources thriving. I have been astounded at the resilience demonstrated in this year of challenge – applying for grants, making the halls COVID-19 secure, following stringent risk assessments to enable opening to make sure the people in their communities can meet safely. They have dealt with closures and re-openings, used their halls as food distribution centres, places to make scrubs and for additional storage for goods for their village shops!
"Although this year has got to have been the most difficult in our lifetime, it has truly demonstrated the tenacity of trustees who have continued to keep the halls maintained and safe so that when normal life resumes, people will be welcomed back with open arms.
Anyone keen to find out more about the Village Halls Portal event, please join us/''
Managed by volunteers, England's 10,000+ village and community halls support a diverse range of community activities from exercise classes to coffee mornings and are routinely hired out for private parties and weddings. Some host community shops and post offices.
In a survey undertaken by national charity Action with Communities in Rural England (ACRE) last year, it was found that 60% of village halls provide the only meeting space in the local community. An estimated 50,000 individuals are reliant on the use of village halls to make a living.
Phillip Vincent, Public Affairs and Communications Manager for ACRE said,
"The current national lockdown means we are having to do things differently for Village Halls Week 2021. This will be an online affair but there's still a good opportunity for village halls to get involved and join us in celebrating all the work they do. We've published a programme that invites people to join online events, share stories on social media and sign a 'doomsday book' which will be a record of village halls in their centenary year."
Further information about the national campaign is available from ACRE's website. You can read more about Northumberland's previous celebrations of Village Halls Week.