Events planned across county for #VillageHallsWeek
15th Jan 2019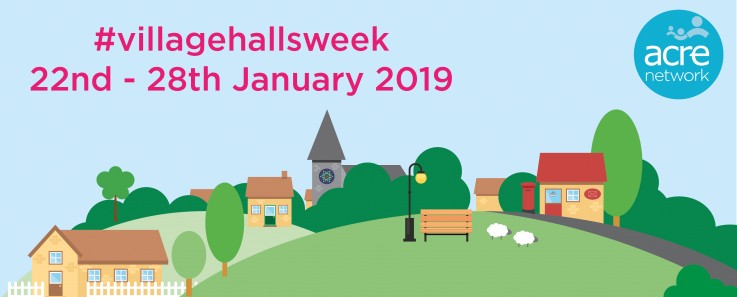 Northumberland's village halls are gearing up to open their doors for #VillageHallsWeek, starting Tuesday 22 January, to celebrate the vital role they play.
Many village halls across the county are joining in the week-long celebration, putting on special events ranging from coffee mornings, ceilidh dances and Burns suppers.
Stannington Village Hall will host the main celebration event on 23 January for village halls volunteers across the county, organised by Community Action Northumberland (CAN). The renowned poet Ian McMillan will be speaking, helping celebrate the true value of village halls and will create a Northumberland poem.
Around 20 village halls will be represented at the event, with displays showing what goes on at their hall and its history. The event will also see the launch of CAN's 'Northumberland Village Halls Heritage Project' which will build on the extensive history of our village halls and the communities they serve.
CAN provides a community buildings service offering support and advice for trustees managing community buildings, led by Louise Currie, Community Initiatives Officer.
Louise said of next week's main event:
"We're really excited to have so many Village Halls coming together under one roof to show off their halls, share a bit about their history and celebrate the strong network we have across Northumberland. It'll also be the chance to say a big thank you to the volunteers who these halls just couldn't function without their efforts."
The week-long celebration was created last year by ACRE Network, England's largest network of rural community support organisations, and was a huge success. The purpose of the week is to say a collective "thank you" to all volunteers who work tirelessly to keep community buildings and village halls open for the benefit of local residents.
Event Listings
Please contact the hall directly for further details on each event.
Slalely Commemoration Hall
19-20 January Open weekend to raise funds for 100 years £100k appeal. Various events on Saturday include Craft exhibition 10am-12noon, and film night 'Edie' starring Sheila Hancock, small fee, with bar and buffet. Sunday events include 10am-12noon history exhibition, 3pm afternoon tea.
Ponteland Memorial Hall
Tuesday 22 January 'Know your Hall' event 10am-12noon featuring the people, organisations who use the Hall and its facilities. This will range from ballet classes, language classes, floral art groups, embroiderers, knitters, yoga and judo sessions. Coffee & refreshments.
Beadnell WI Hall
Wednesday 23rd January Coffee morning, and regularly every Wednesday Morning from 10am-12noon.
Acomb Village Hall
Tuesday 22 January Let's Sing Again Group meeting at 10.15 am for coffee and cake followed by singing group going down memory lane, learning songs from the 1930's - 1980's.
Thursday 24 January Pop up cafe between 9.30 to 4pm. Acomb WI providing refreshments including soup and bread at lunchtime.
Friday 25 January Film screening evening showing 'Lean on Pete', doors opening at 7pm. £5 with tea and coffee included.
Featherstone Village Hall
Thursday 24 January The Night Sky, with the Border Astronomical Society in aid of village hall funds. 7.30-9pm, beginning with a short presentation then viewing session outside. £2 charge, soup, tea and coffee included.
Ellingham Village Hall
Thursday 17 January Village Hall Quiz
Friday 18 January Coffee Morning 10.30am - 12 noon, all funds raised going to support CAN's village halls support service.
Craster Village Hall
Saturday 26 January 'Browse in' coffee morning from 10am. With regular events on throughout the week the hall will support over 100 people who live in this rural coastal community.
Norham Public Hall
Saturday 26 January 7pm Ceillidh dance and potluck supper. £5 tickets on the door.
Wingates Village Institute
Saturday 26 January Burns Night Supper from 7.30pm. £12 tickets, to be bought in advance.