Warm Hub lunch club members brought together online
8th Jan 2021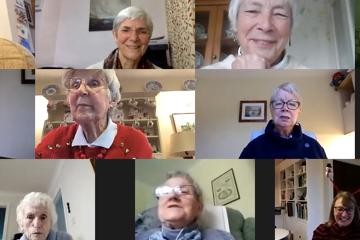 Lesbury luncheon club members have been brought together online with help from CAN as part of our Warm Hub scheme and Rural Food Kitchen project, funded by the National Lottery Community Fund.
Many members of Lesbury Lunch Club are in the 85-95 age group and live alone. Lesbury Village Hall committee had concerns about how to keep them connected while they were shielding at home.
Committee member Jean Humphrys explains: "We contacted them by phone and suggested that we might try to organise a Zoom lunch. Seven people were keen to try this out, but only three of the seven had access to the internet. All three had tablets and could email. The other four had nothing and had never tried to use technology of this sort."
CAN came to the rescue with tablets and 'dongles' along with a socially distanced training session for new users, provided thanks to funding from Northumberland Estates.
Jean went on to say: "We managed to hold one 'training' event in the village hall before the second lockdown and were able to test out the equipment. It was a bit chaotic but well worth doing. We learned what support was needed and we were able to see the main challenges ahead."
Cooks and volunteers from the Warm Hub made and distributed food with soup and scones which could be heated up easily chosen for the first virtual get together.
"I think it took about 15 minutes to get everyone on Zoom first time," said Jean. "Everyone laughed at their tentative steps towards mastering the technology. Pictures came and went, images turned round and round and the mute, unmute button was well used, but we managed to keep going for 40 minutes.
You can read what a difference it's made to their lives in this Northumberland Gazette article with contributions from CAN's committee member Jean Humphries.